Inca Trail to Machu Picchu 5 days

---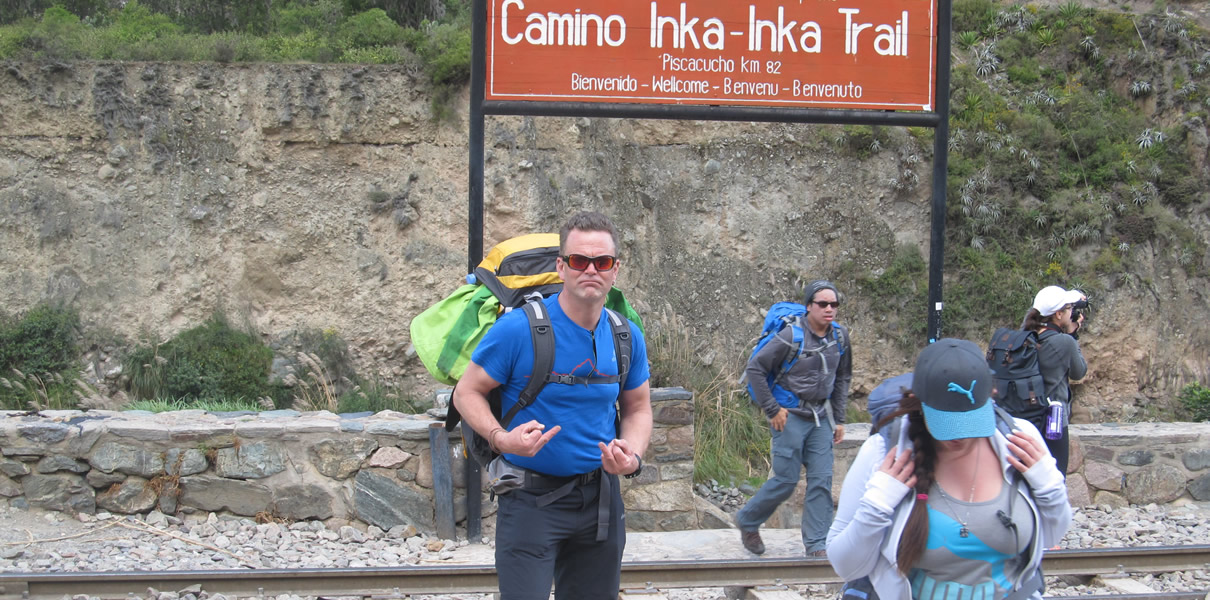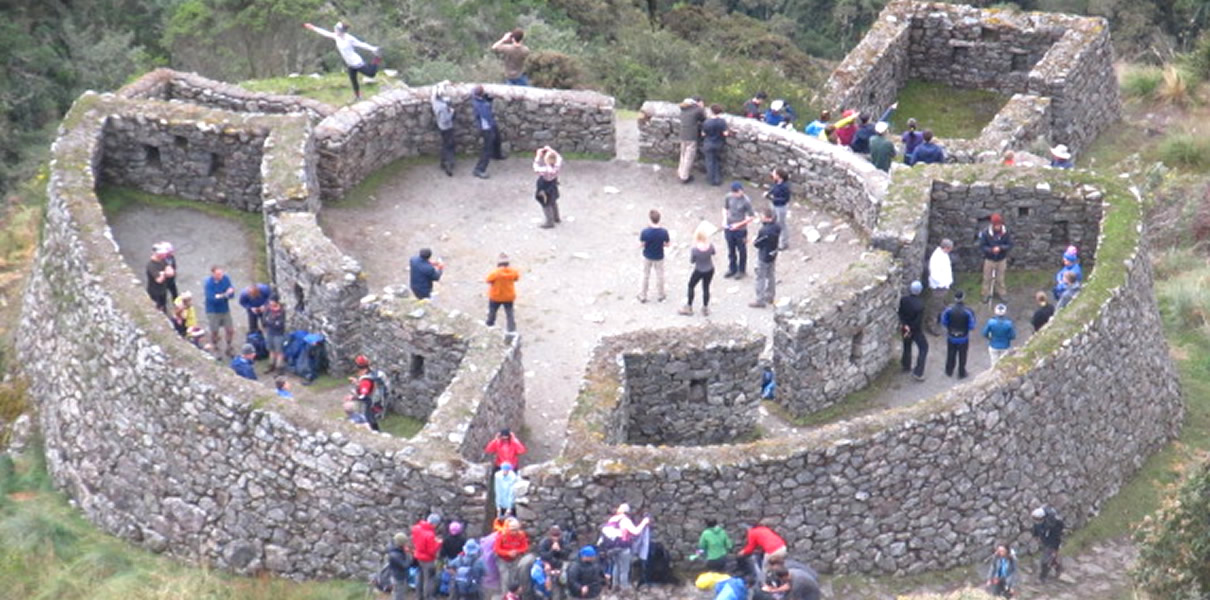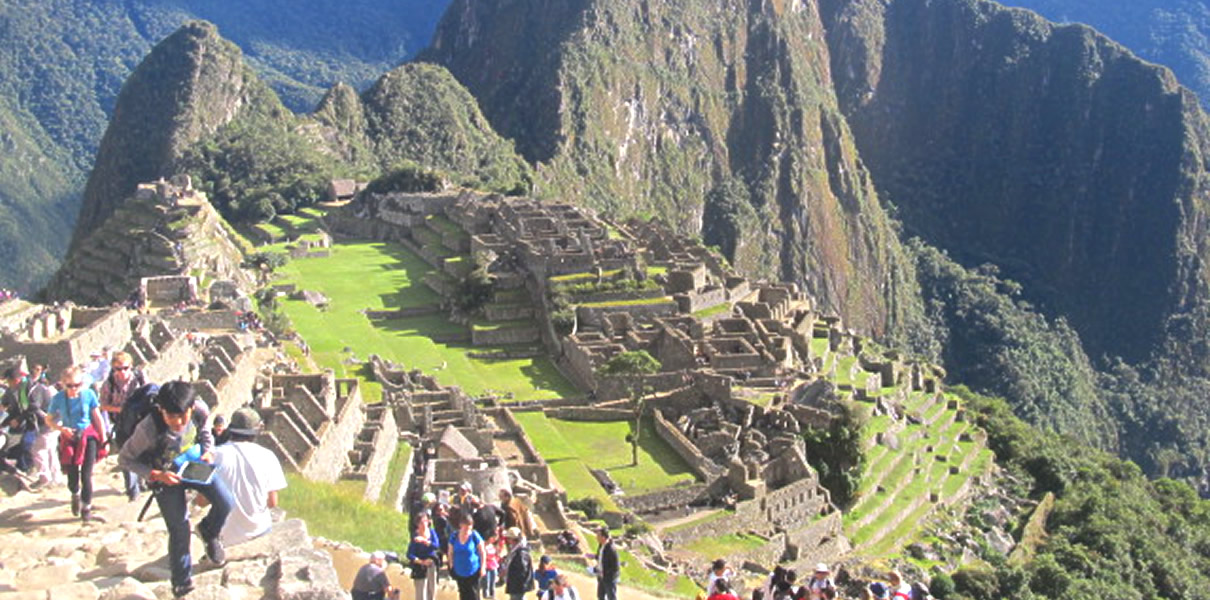 The Inca Trail to Machu Picchu is rated among the best trekking trips in the world because of the exquisite beauty of its natural surroundings. These include different ecological areas from high deserts to Andean tropical rain-forest. Following this ancient Inca Trail we will be walking past mysterious archeological sites, half covered by the jungle overgrowth that looks like you are discovering them for the first time, and finally arriving to the lost city of the Incas: Machu Picchu. Our journey is conducted by experienced guides that will make your trip most pleasant and safe. Also our luggage will be carried by native "quechua" carriers. The meals are delicious
Day 1: Cusco - Piskacucho Patallacta
We will pick you up from your hotel to go across the sacred valley passing for Ollantaytambo, until coming to the community piscacucho (km 82) of the train track line Cusco – Machupicchu by private bus ,where we will begin our trip .where we will initiate our trek not very forced along the left side of the URUBAMBA river. we will go slow for your acclimatization and will enjoy a great panoramic sight of the mountain of the veronica . In the evening, we will visit the archeological complex called patallacta and the Q'ente platforms. This is the place for our campsite.
Day 2: Patallacta - Llulluchapanpa
After the breakfast we will continue our trip across the Valley Huayllabamba; in our trip we will be able to observe a variety of flora and fauna along the trail, since we are ascending slowly to the community wayllabamba (3000m.s.n.m).where will take a small break. Of this point the way puts more strongly up to llulluchapampa ,where we will pass for Yuncachinpa (3300m.s.n.m), later we will be able to observe Wuayanay valley; immediately later we follow the raise towards llulluchapampa (3800 m.s.n.m) then we will arrive to our campsite and rest all night and in this place we will be able to see the highest point called Warmiwañusca pass or dead woman pass (4200 m.s.n.m).
Day 3: Llulluchapampa - Phuyupatamarca
This day we will make a calm trip of 2 hours up to Warmiwañusca (4,215 m.s.n.m) and then we will descend in pacaymayo valley (3650 m.s.n.m). from pacaymayo, we ascend to the second step where we could see the Vilcabamba mountain range and finally we descend to chakicocha or lagoon dry (3650 m.s.n.m) where we will be our lunch part .Along the way , we will visit different archaeological complexes like Runkuracay ,sayacmarca .and finally we will go to our camping called phuyupatamarca (3600m.s.n.m)
Day 4: Phuyupatamarca - Wiñaywayna - Machu Picchu - Aguas Calientes
We get up very early to enjoy the spectacular views. Phuyupatamarca means city in the clouds .After breakfast we explore and learn about the well-known techniques used in building then we descend into wiñaywayna for about three hours, in the middle of clouds and rain forest vegetation, hopefully we will see many varieties of birds .then arrive at another archaeological complex called wiñaywayna (2650 m) a great place to explore and visit .about Archaeological complex and have the option to climb up Huayna picchu and Machu picchu mountain but to must let us know as soon as possible because ,according to the new rules there is a limit people (400) per day. After our visit it. We return to aguas calientes around 1:00 pm for the lunch. Finally we take the train to return to Cusco, where we expected our private transport to get to our hotel in Cuzco, after 4 hours of travelling. Two hours later arrive at inti punku ( puerta del sol ),where we have a fantastic and quiet view of this mystical place and perhaps enjoy the sunset over machu picchu (2400 m), after this time we will go do down to Aguas calientes for 30 minute ,and spend the night in a comfortable hotel.
Day 5: Aguas Calientes – Machu Picchu - Aguas Calientes –Cusco
We get up very early to have breakfast and go in bus approximately 30 minutes up to archaeological complex Machupichu ,where we will enjoy a spectacular view of the enigmatic Inca city, we will spend 2 hours approx. By all the surroundings of the city visiting the important sites : the enclosures , squares ,sacred sources ,temples ,urban and agricultural sector .Later you will have free time to visit the archaeological complex by yourself .Also you will have the option to climb up Huayna picchu mountain or machupicchu mountain up, but you must let us know or talk with your guide as soon you could it, because according to the new rules, there is a person's limit(400) for day to climb. After our visit we will return to AGUAS CALIENTES about 1:00 pm (this Schedule is recommended to have lunch with enough time). Finally we going to take the train to go to Cusco ,where our private transport waits for us to go to our hotel in Cusco where we take approximately 4 hours.
Note.
People who want to visit Huayna picchu must let us know as soon they can, because according to new rules, there is a limit of people (400) per day that can climb it.
---
In The Price Includes:
Transfer Cuzco Hotel / Km. 82
Entrance ticket to Inka Trail
Entrance ticket to Machu Picchu
Bus ticket Machu Picchu - Aguas Calientes
Train ticket Aguas Calientes – Cusco
Transfer train station / Hotel
Porters (carry tents and cooking equipment) and cooks
Guided visit to Machu Picchu and the ruins along the trail.
Bilingual professional guide during all Inca Trail circuit.
All meals along the excursion.
Camping equipment including tents, kitchen tent, mattresses, etc.
Equipment of the kitchen all quirurgits
Vegetarian food available on request with no extra charge.
Transfer station – Hotel in cusco
Price does Not Include:
Transport airport
Hotel in Lima
Flight Lima, Cuzco, Lima
Hotel in Cuzco
Personal Equipment of trekking
Additional Taxi
Lunch and Dinner on the last day
Visit to the Hot Springs in Aguas Calientes
Tips.
We Recommend that you bring:
A backpack with a change of clothes for the whole period of the trek
Rain jacket or Poncho (Plastic rain Ponchos can be purchased in Cusco or on the way to the trail starting point)
Strong footwear, ideally trekking or sport shoes
Warm clothes, including sweater and jacket
Sleeping bag
Mattress (by us but to be carried by you)
Flashlight and batteries
Camera, film and batteries
Hat or cap to protect your face from the sun/cold
Sun block
Insect repellent
Toilet paper
Snacks: biscuits, energy bars, chocolate, etc
Water bottle and sterilizing tablets (ie. Micropur)
Additional Options
1) porters can be hired to help carry your personal items such as clothes, sleeping bag etc. The services of a third of a porter (maximum 18kg or 18lb per person) can be hired for US$180. If you hire the services of a third of a porter (you will need to supply the small padlock). However, even with this service you will still need to take a daypack to carry your essential items such as rain poncho, warm fleece, camera and water bottle.
Please note that due to new government regulations the maximum number of porters that we can use in each group has now been capped. This is why we have had to limit the maximum amount of personal equipment that you can give to a porter to carry for you to 5kg or 18lb per person. (The maximum amount that each porter can carry on the Inca Trail has also been limited to 18kg or 20lb per porter). Approximately 40% of our clients hire the services of an extra third porter.
Equipment Rent
Sleeping bags $30 for 4 days.
Extra porter USD$ 180 (one porter could carry up to 18kg)
Important Information for Inca Trail Machu Picchu:
They allowed only 500 people per day Inca Trail. This number includes tourists, guides, porters and cooks. The quotas are for everyone, people who want to do the Inca Trail. So to walk the Inca Trail is essential to book months in advance.
The availability of quotas for the Inca Trail is the same for all agencies. Thus, if there were available no agency can get space for the Inca Trail.
We will buy your Inca Trail trek permit using the names & passport numbers that you send us with your trek booking application. You must bring these same passports with you to Cusco and take them on the Inca Trail. If the name or number in your passport is different from the name and number on the trek permit, the government authorities will not allow you to start the trek and you will not be entitled to a refund. If you plan to renew your passport between making the trek booking and actually starting the trek you will must bring both passports (New and Old). If you make a trek booking at the student price you must send us a copy of your ISIC card at the time you pay the trek deposit. If you fail to bring your ISIC card on the trek the government authorities will not allow you to start the trek. You will not be given the opportunity to pay the extra difference in Price.
On the other hand, you must have the following information to reserve as in your passport and from each participant in your group:
Trek departure date
Prior arrival date in Cusco
Name (as in your passport)
Middle Name
Surname
Passport Number
Citizenship
Birth date
Special Food Requirement
Height
Gender: Male / Female
Student with ISIC card: No / Yes
Accommodation in Cusco (Address and Phone Number)
Important:
Kindly take note that once your spot is reserve and confirmed is non refundable neither allow to do any modifications like names, passport numbers or so.
We appreciate your cooperation in this fact as we are also working with the new regulations.